How I Met Your Mother is one of my favorite TV series; I can't wait for the finale to see how it all ends. Who are we kidding? The show will live on in re-runs and on Netflix!
Anyway…
On January 27, 2014, during the 200th episode of How I Met Your Mother, fans were treated to an episode that was all about The Mother.
Spoiler alert…
Viewers found out The Mother's boyfriend died and she decides that she'll never find another love like the one she had.
But…
The Mother meets her former music teacher and they go back to her apartment. He thinks he's getting lucky and takes off his clothes while she gets her cello. She walks into the living area and is freaked out and thinks he's turning into a creep. The music teacher grabs The Mother's cello and hides his manhood.
The Mother tells her former music teacher that she feels lost and stuck. Lucky for her, he felt the same way she did. He tells her that he discovered what he truly wanted to do, teach music, while hitting rock bottom and living in his parents basement.
Check out the dialogue below between The Mother and her former music teacher.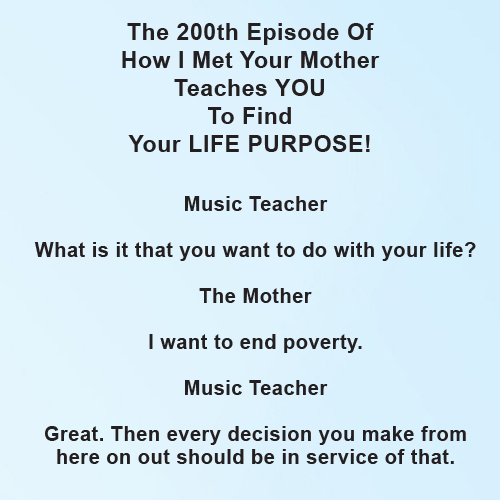 Music Teacher
What is it that you want to do with your life?
The Mother
I want to end poverty.
Music Teacher
Great. Then every decision you make from here on out should be in service of that.
See.
It's that easy to discover your life purpose. Stop over thinking what you should or shouldn't do with your life.
Simply ask yourself, "What is it that I want to do with my life?"
What to do When You Find Your Life Purpose?
Once you discover your life purpose or reconnect with your dreams, don't share what you want to do with people who'll put you and your life purpose down. Guard it with our life. If you feel the need to share your life purpose, only share it with those who support you, no matter what.
If you need to take classes, sign up for them. If you need to move, then move. If you need to release people from your life who no longer resonate with you and your life's path, gently say goodbye.
Embrace your life purpose with every ounce of your being.
Visualize yourself following your path and doing well.
If fear creeps into your mind, acknowledge it (don't stuff it down). Remember the quote, "Feel the fear and do it anyway."
Know that all is well and that you deserve to be happy and do what you want to do that brings you and others joy.
Over to you. Have you found your life purpose? If so, how did you discover it? Let me know in the comment below.