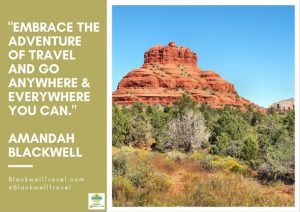 How long has it been since you've traveled? If it's been some time, you may have slipped into a travel rut and need a boost to motivate you to plan your next adventure with some of my favorite travel quotes.
I understand that life happens and traveling may not be a priority at the moment. But this doesn't mean you can't think about planning a vacation, even if it's for next year.
Don't give up on exploring the world because you may regret it. Even if you went away for the weekend, it's better than doing nothing at all.
Life's too short to not follow your dreams and heart. Besides, you never know what you may discover when you're halfway across your country, or the world.
I hope the following travel quotes inspire you to start thinking about and planning your next adventure. Isn't it time to explore a part of the world, even a part of your soul, that's been dying for you to visit and get to know?
Read the following words when you need inspiration, a reminder about why it's important for you to travel.
These Travel Quotes Will Make You Want to Plan a Trip
Ready to Travel? Choose a Destination Now
You probably didn't realize how much you love to travel until you've read one of the quotes.
Perhaps you've become stuck in a routine that has kept you grounded – the months have passed by and turned into years without you traveling.
Whatever your situation, I hope the above travel quotes have reignited or reinforced your passion for travel. Find time to explore the world, even if it's in your backyard. You may be surprised by what you find.
What travel quote did I miss? Which one inspires you? Let me know in the comments.
P.S. I'd appreciate it if you'd share this post on your favorite social networks, e.g., Twitter and Facebook, because it would be a huge help.
I get it, I'm blatantly asking you to share my article, but it's super easy. Thanks so much! 🙂