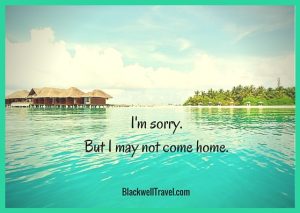 Did you know that sending travel postcards has become a lost art? Well, I'm here to bring it back. People love to receive things in the mail. I mean. Who wouldn't want to receive an unexpected handwritten note in the mail?
It's great that you buy your family and friends souvenirs from wherever you've traveled. But giving them something more personal, something that may put a smile on their face is so much better. And the fact that you took the time to write and send a postcard may impress them.
Read on to learn the 10 postcard notes you can send to family and friends.
10 Postcard Notes to Send to Family and Friends
Here are 10 postcard notes that you can send to family and friends. They'll laugh. They'll cry. They'll want travel with you because they don't want to miss out on the fun.
Are You Ready to Mail Travel Postcards?
Imagine kicking back and relaxing on a Secrets Resort and Spa vacation or Sandals or Beaches vacation. You have your toes in the sand and a margarita in the other. You take a deep breath, let it out, and realize that you're in paradise. You may not want to leave!
Not only are you feeling relaxed and well rested, but you're totally grateful for the beauty of nature as you look around and see an abundance of tall, Caribbean palm trees.
All you have to do is commit to taking traveling and vacationing. Perhaps you'll go somewhere that will inspire you so that you may inspire others. Maybe you'll take a wellness vacation so that you can become fit and healthy, mentally, emotionally, and physically.
Sound good?
Of course it does!
Want to be whisked away to paradise but don't want to plan your fantasy vacation? Download this flyer about why you should use a travel agent and then contact me today! Let me help you design the perfect vacation getaway for you and/or you and your family.