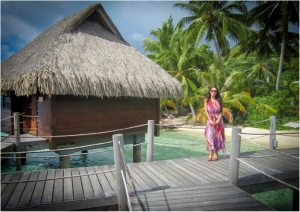 Whether you're a celebrity or not, over the water suites [or bungalows] are popular with travelers; many resort chains are building them.
For example, El Dorado Maroma, A Beachfront Resort by Karisma, was set to offer 60 over the water suites in 2016. Roughly $7 million was budgeted for the project.
Sandals announced that over the water suites at Sandals Royal Caribbean would be ready for sale for arrivals beginning November 15, 2016. The peaceful setting will feature floating water hammocks, glass floors, and more. The Tahiti-style private villas will deliver an immersive journey above the Caribbean's finest turquoise waters with vibrant marine life.
You'll feel like royalty because each villa receives its own personal butler. They've been trained in accordance to the Guild of Professional Butlers; the same organization that provides butlers to nobility and celebrities.
Doesn't this sound exciting?
Keep reading to learn the top reasons why over the water suites are more popular now than ever. You'll want to book your stay as soon as possible.
These Are the Top Reasons Why Over the Water Suites Are More Popular
Romantic Getaway for Two
Are you getting married and looking for a different type of honeymoon experience? Do you want your accommodations to have the utmost privacy? Then saying "I Do" to over the water suites may be the best choice for you. If you choose to stay at Sandals Royal Caribbean, you and your spouse will admire the stunning beauty of the ocean from your private infinity pool or outdoor showers (there are two of them). Your suite includes a stylish king-size bed with soft Egyptian linens and plush pillows. Ooh la la!
Vacation Like a VIP
Have you always wanted your own butler? You'll feel like Bruce Wayne aka Batman when you stay in an over the water suite that offers butler service. Imagine being served dinner and eating on your private water bungalow. As you dine on some of the finest cuisine in the world, you watch a brilliant, color filled sunset. It doesn't get any better than this!
Jump into the Water
Picture yourself diving into crystal clear waters from your over the water suite. Not only do you enjoy the convenience of the water, but you marvel at the rich marine life passing you by. Having access to the water is more convenient than walking to a resort pool and or to the beach. Not that there's anything wrong with this. But for a different vacation experience, you may want to stay in an over water suite in the Caribbean.
Are You Ready to Stay in an Over the Water Suite?
Imagine staying in an over the water suite inspired by Tahiti. Not only do you have access to a butler who attends to your every need, but you have access to turquoise water that's clean and bright and filled with a variety of marine life.
If you want a luxurious vacation, stay in an over the water suite or bungalow. Why? Because it will make you feel like a rock star. Don't you deserve the very best life has to offer?
Contact me today and ask about taking a Caribbean vacation. Let me help you plan a vacation of a lifetime. Warning! You may not want to return to your everyday life.