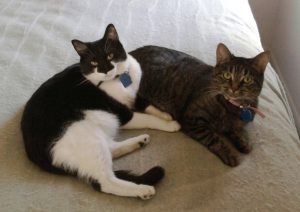 Travel with your cats. You may think that this is crazy advice. But I'm here to tell you that you can take your feline friends with you on vacation.
In September 2007, I moved to Chandler, Arizona. I missed having a pet and my friends told me to get a cat because they're easy to care for and would be better suited for apartment living when compared to a dog.
In August 2008, I went to the PetSmart in Chandler, Arizona and noticed that they had adoptable animals from a local rescue, Mixed Up Mutts and Shepherds Too. I was confused because the adoptable animals were cats and one kitten, Benny (he's the black and white cat in the picture) — there were no dogs.
Long story short, I adopted Benny and then in early 2009, I adopted CeCe (she's the tabby cat in the picture) from the Arizona Humane Society.
For Christmas 2009, I decided to fly back to Ohio to see my family. I had a feeling that CeCe would not enjoy air travel (she was still getting used to me) and decided to hire a pet sitter to watch her and flew back with Benny.
Benny was the perfect airline traveler. He slept during our flight and my fellow travelers commented on how they didn't even know that my carry-on, which was actually a pet travel carrier, contained a cat. I didn't think air travel with cats was a big deal, and it wasn't. See that. You can travel with cats on an airplane!
Keep reading to learn how you can travel with cats. It's not as difficult as you may think.
How You Can Easily Travel with Cats
Domestic Airline Travel with Cats
Air travel with cats doesn't have to be stressful. Before I traveled domestically with Benny, I took him to his veterinarian. Why? Because some airlines require pets to have a health certificate; although, airline personnel may not check it. At least, this is what happened when I flew home to Ohio in 2009. No one asked to see Benny's health certificate.
You may want to ask your veterinarian for tranquilizers for your cats. Why? Because they may be anxious about flying just like you are. Even if you don't give your cats tranquilizers (Benny didn't need them), it's good to have them just in case your cats need them.
Buy an acceptable pet travel carrier; most airlines have information about the size on their websites. Pet carriers should meet specifications (international airline travel with cats is more involved).
The biggest thing to look out for is the other passengers. Adults and kids may want to pet your cats. Don't let them do this! Why? Because if you're cats are stressed, they could possible hiss, bite, or scratch well-meaning animal lovers. It's better to err on the side of caution.
The good news is that many airlines accept cats. Why? Because people love their pets and want to travel with them.
Car Travel with Cats
You can travel with cats in a car for a long distance! How do I know this? Because my move to Arizona didn't work out as I thought it would. My decision to move back to Ohio wasn't an easy one; I had thoughts of failure swirling around in my head. Plus, I didn't want to surrender Benny and CeCe to an animal shelter. Why? Because they're my "fur kids."
Before leaving Arizona, I bought the following for our road trip:
Larger pet carriers; I wanted Benny and CeCe to be comfortable on our more than 2,000 mile journey back to Ohio.
Disposable litter pans.
Disposable cat litter scooper.
Pet travel food and water bowls.
Leashes.
Cooler for bottled water, finger foods, and snacks.
First-aid kit.
Ziploc bags to store cat food (made it more accessible).
Benny and CeCe were already microchipped and wore collars with tags so I didn't have to worry about this. I also had a medium-sized bag of litter, so this was another item checked off of my list.
My sister flew out to Chandler and helped me pack my Nissan Altima. She, Benny, CeCe and I started our road trip back to Ohio. This was one of the lowest points in my life because I loved Arizona — I felt connected to the state and land. It was home to me.
During our road trip, I stopped at travel rest stops along the way. I also let Benny and CeCe out of the carriers in the car to eat and drink, and yes, use the litter box (put the litter in plastic bags). Benny and CeCe didn't eat much because they weren't in their normal environment. But I needed to make sure they ate food and drank water.
To make sure everyone was comfortable; we stayed at two pet friendly hotels (see the next point). Not only did my sister and I get to stretch our legs, but Benny and CeCe did too.
Once we drove into Ohio I felt myself relax and tense up at the same time. I was happy that all of made it safe and sound.
Moving and traveling with my cats was easier than I thought. I'm grateful that my sister was there to help. Although, what I really needed was her emotional and moral support. I'm forever grateful.
Stay at Hotels That Welcome Cats
Whether you're traveling with cats in an RV or car or traveling by air, make sure you stay at pet friendly hotels. Trust me. There are plenty of pet friendly hotel chains available (Hilton, Marriott, Choice and more) for you and your fur kids.
For example, during my road trip back to Ohio, I called a Best Western in Missouri to find out if they accepted pets — they did. I could relax more knowing that my cats would be accepted at a hotel.
When it comes to pet friendly hotels, the layout may be different for each one. For example, my sister prefers to stay at hotels where you don't have to walk into a lobby and access your hotel room from the interior. She prefers the exterior where you simply walk to a door, open it and walk into your room.
I prefer to stay at hotels where you have to walk into a lobby and take an elevator (overcoming my fear) to your room. Call it a false sense of security, but I feel better. Why? Because if my cats get out, they could run down a hallway instead of running out the door to the parking lot.
According to marketresearch.com, "projected trends for the pet industry expect to hit $91.72 billion in sales by 2019." And since people travel with their cats, it makes sense for those within the tourism industry to offer pet friendly hotels. You and your cats will have plenty of options!
Are You Ready to Travel with Your Cats?
Let's face it; you want to vacation with your cats. Why? Because you may be apprehensive to leave them at home with family and friends or a pet sitter. That's okay. They are, after all, your fur kids, right? And you want the best for them.
If you're traveling domestically with cats on an airplane, you can most likely bring them into the cabin with you. However, you may have to buy another seat so that you can place your cat on it or underneath the seat in front of you.
When traveling on an airplane, make sure you have an acceptable airline pet carrier and papers from your veterinarian (most airlines require a health certificate for air travel). If you think your cats will be anxious, ask your veterinarian to give them a tranquilizer.
Internationally traveling with cats means you must follow the country's laws regarding domestic animals. Depending on the country, you may have to quarantine your cats for a certain period of time.
Whether you travel with your cats in a car for a long distance or travel with cats while flying, it's possible to have a smooth and seamless ride and enjoy your vacation at the same time.