I recently took a road trip to the East Bay and South Bay of San Francisco. It took me 12 hours to drive from Phoenix, AZ to San Francisco. The reason for my trip was to check out a school that I'm interested in attending. Next time, I'll fly.
Driving by yourself is no fun for two reason: 1) you do all of the driving and 2) it's kind of boring because you have no one to converse with when you're on the road.
While I was in the East Bay and South Bay areas of San Francisco, I wanted to see the ocean. I was at the South Bay campus of the university that I'm interested which is located in Campbell, CA. After speaking with one of the advisor's, I found out that the ocean was only a 1-hour drive. I didn't know I'd be headed to Santa Cruz.
I hopped on the 17-S and drove towards Santa Cruz. It was an easy drive from Campbell, CA. It was a bit winding and curvy. I was grateful that the police were on the highway as well because Californians are worse drivers than Arizonians.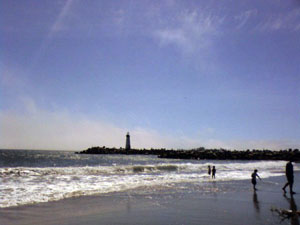 Santa Cruz was a lot of fun. It was so cool to see the Santa Cruz Beach Boardwalk. Yes, the same boardwalk where the original Lost Boys movies was filmed! Here's a tip: you may want to arrive very early in the morning. Parking was horrific. You may want to book a stay at hotel in the area so you can walk to the boardwalk.
After driving around and around, I decided to forgo the Santa Cruz Beach Boardwalk and drove to the Santa Cruz Harbor. I found parking on the street and the restaurant The Crow's Nest. When I parked my car, I had a "gut instinct" that said "maybe you can't park here." A sign was posted that read "No Parking — Mon. – Fri. 8 am – 5pm." Unfortunately, I didn't see the park about "No Parking without a Permit." I parked my car and walked toward the ocean.
Walking on the beach was wonderful. As I walked towards the Pacific Ocean, I felt very grateful for having made to California from Arizona. I watched the waves were crash upon the beach and was awestruck. As I walked towards the ocean, the water came up and kissed my feet! I continued to walk and the water smacked against my legs. My pants legs were all wet and full of sand, but I didn't mind.
I began to walk towards my car and noticed a woman by my car. I said, "…excuse me, may I help you." She turned around and low and behold it was a cop. Nice. Apparently, my "gut instinct" was right. I couldn't park on the street. She told me to take the ticket to this little trailer, and I did. There was nothing they could do. I was told I could pay the ticket online.
Yes, I paid $45 to see the Pacific Ocean and walk on the beach. Was it worth it? I believe it was because my creativity was reopened. I was feeling stuck with my writing and life. I loved walking on the beach and recommend it. So, you may want to book a trip to Northern California and visit Santa Cruz. Go on, the water's fine!
Rebecca
Who else got a ticket while traveling?